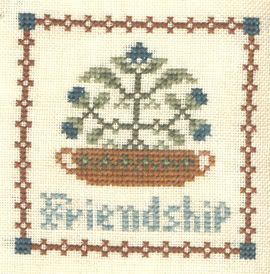 What's up with Blogger? Seems everyone is having problems uploading pix, so I also did the Photobucket thing.
This is the 2nd pillow design that comes with all the Little House Needleworks "Dear Diary" series designs. Rather than making a ton of little pillows, I'm stitching them onto a large piece of 28ct. Lambswool Linen, and I'm going to love it! There is a diagram on Diane's webpage of where each pillow design is placed on the fabric.
This is one of the little things I was able to do during my non-blogging, little-stitching days over the last 3 months.