Left
is my scissor collection. There are several older scissors that I bought from an old friend who owned an LNS in town, and she sold them to me at her cost. They are the Gingher black and the pewter ones with brown boxes in the middle. Bless her heart; she died of cancer about 10 years ago, and I miss our trips to markets together. I miss her... period. The designer Ginghers are my eBay bargains. I can sniff out a bargain and swoop them up like a vulcher after its prey. Those beautiful new designer Gingers retail for a fortune, the smallest about $33 or so, and the most I paid for any of those was $16, including shipping. Most were less than that.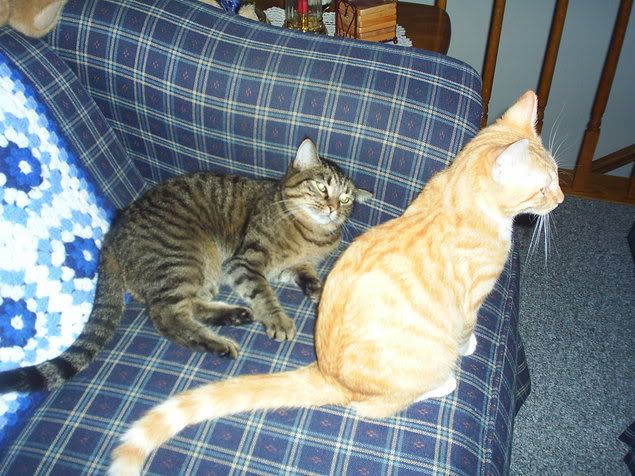 For those of you who have used my enabled Blogger email feature to inquire about my sick kitty, Amber, I had to consult with Becky about why when I tried to answer you personally, I got a message back saying something like "no answer, blah, blah, blah." Becky said only those who have their Blogger email enabled can receive personal responses to their messages. Amber is doing just fine, and thank you all for asking. I changed all the cats' food to Iams, which is very good for prevention of UTI's. Her last course of medication worked like a charm, and I had jumped the gun, being the paranoid cat mom that I am, and she is completely healthy, with no kidney disease at all. A clean bill of health, and she is as vivacious as ever, driving the other two nuts with her kitty antics.

Thanks to all of you for all your kind comments on my illness, kitty's illness and your compliments on my puny stitching, LOL! Compared to some of you, I have the speed of a slug. I was born with one speed, and it hasn't improved with age. In fact, at my age, it's beginning to decline. Such is life, but I still enjoy it, and I enjoy all of you, my friends!