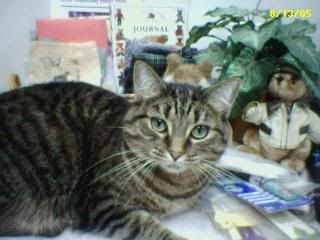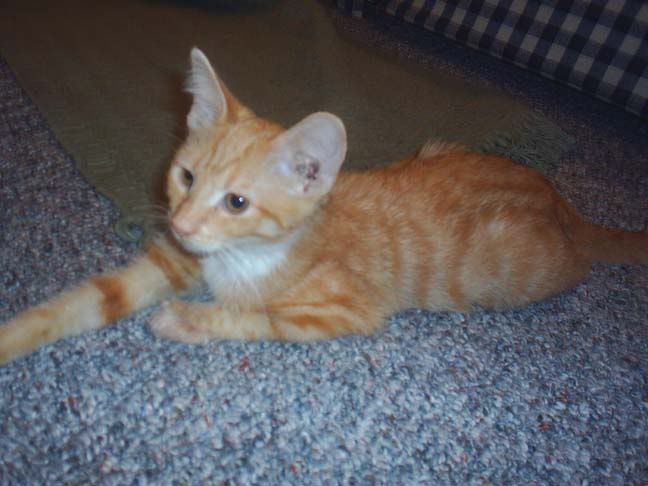 My daughter, Vanessa, emailed me the picture at the bottom left today. She and I both collect cats and Longaberger baskets. She has four cats to my three, and the one on the bottom left is the Mama of my kitty, Caiti, two years old, upper right. Mama's name is actually Tigger, but she answers to Mama. See how much Caiti looks like her Mama.
Anyway, Mama decided recently that she likes the looks of Vanessa's pantry basket between the top of the cabinets and the kitchen ceiling. She's a petite springy little thing, but after her jump, she was a bit tired, so she just took her nap in the basket. They all say she's dumb, but I think she's just a bit accentric. Hey, there's nothing stupid about getting nice and toasty on a cool day up near the ceiling where it's warm and no one can bother her. Besides that, she made a lot of pretty babies and brought a lot of happiness to several homes before she was spayed.
My kitty family is as follows:
My newest, whom I featured in a previous post is Amber, right, and I adopted the little doll from the Care Shelter this month. She's pretty much calling the shots with my oldest, top left, Pibbie (short for Pib---meaning Pain In the Butt), who is nine, and last, but not least, is my two-year-old Caiti (pronounced Cat-Tee). They're equally precious in their own ways and are so completely different that it's amazing they do so well together.